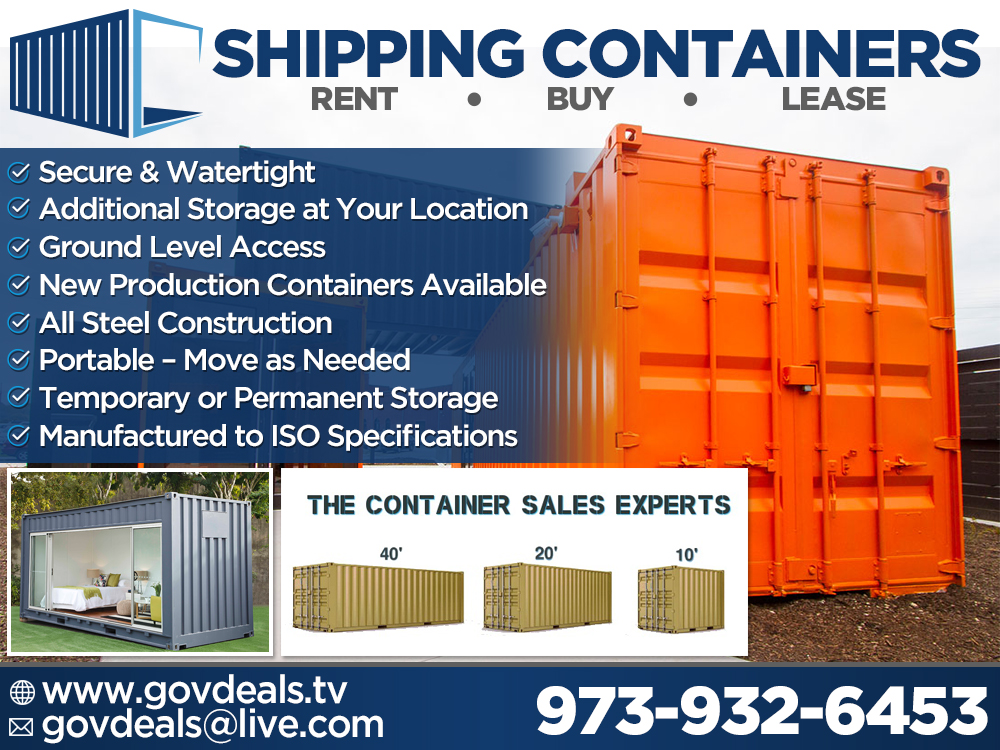 SHIPPING CONTAINERS
Shipping Container, Storage Container, Cargo Containers


GovDeals.tv makes your life easier by providing safe and secure storage containers for your business. Whether you prefer to call them industrial containers, conex (or connex) boxes, or sea shipping containers, our container storage units are weather-proof, vandal-proof, 14-gauge all-steel containers equipped with cam rods and wood floors. If safety and security are important to your organization, for an additional monthly fee, we offer virtually indestructible rod locks to provide additional security and

solar lighting kits

to keep your employees safe when they're working before the sun rises or after the sun sets. While we have a wide variety of custom sizes in our fleet, our available standard sizes for you large year-long (or just one month) projects are:

20′ Storage Containers

40′ Storage Containers
45' Storage Containers

Our competitive prices provide major advantages over traditional storage space, regardless whether you want to rent or buy. Storage shipping containers have proven to provide flexibility, mobility and efficiency, while also providing a cost-effect solution for security offices and office/storage trailers, etc.

RENT A SHIPPING CONTAINER
Shipping Container Uses:

Jobsite Container Storage
Pre build self storage facilities
Construction Storage
Mobile field office
Tool Storage
Overflow Equipment Storage
Inventory Storage
Work Area / Work Shops
Emergency Shelters
School Buildings, surplus supplies
Artist Studios
Flower Stands
Firework stands
Fire training facilities
Military training
Movable exhibition spaces
Agriculture Storage
Farm Equipment and supply storage
Ranch Storage
Paint Storage
Files, Books, Business Record Storage

Sports equipment storage
Snack bars, Concession stands
Boat, Classic or Collector car, Truck, Motorcycle, Tractor, ATV, Snowmobile storage
Automobile Storage
Guard Shacks
Hunting Shelters
Driveway portable storage units
Retaining walls
Secure perimeter barriers
Fencing and Storage
Containers as Structures
Wine, Vintner Storage
Temperature controlled storage for food products
Overflow Cargo Storage
Field research storage
Generator sound insulator
Residential moving and storage

---
| | |
| --- | --- |
| | Shipping Containers, Container Shipping, Storage Containers, Container Storage, Refrigerated Containers, Flat Racks, Open Tops, Shipping, Modified, Storage, Chassis, Portable Storage, Mobile Storage, Flat Racks, Custom Modifications, Custom Modified, Office Trailers, Flatbeds, Transportation Services, Portable Containers, Sales, Leasing, Rental, Gooseneck Chassis, Straight frame Chassis, Slider Chassis, Storage Container, Shipping Container, Containers for Rental, Containers for Sale, Storage Containers for sale, Shipping Containers for sale, Storage Containers for rent, Portable Container Services. |
HIGH SECURITY PORTABLE OFFICE STORAGE CONTAINERS
HIGH SECURITY PORTABLE OFFICE STORAGE
​Containers Mobile Modular Portable Storage offers high-security portable office containers that are fully movable and safe. Since space restrictions can often present difficult challenges for additional office space, our High-Security Portable Offices are a great solution. The ability to drop units directly on the ground lets you maximize the work environment.
All steel storage containers offices are ISO-grade shipping containers that are highly secure, with lockable door handles. We have the following container sizes ready to rent: 20 ft., and 40 ft.
No matter how diverse your requirement, we can find the right shipping office container for you. We have earned the trust of customers from major industries like manufacturing and construction to retail, healthcare, schools and even theme parks. We discuss all the specs of the job with you to arrive at the perfect pricing right at the outset. And unlike the usual 28-day billing cycle, we bill using a 30-day billing cycle.
The benefits don't end there. At Mobile Modular Portable Storage, we command our own fleet of trucks and trailers. This means our customers can expect delivery on their timelines when they place that order!
Are you looking for new or used high-security portable office storage and shipping containers for rent or sale? Contact us or request a quote today.
​Container Offices-shipping container, or ISO, container offices are extremely popular given the many ways they can be used. They are designed to provide the same level of portability and security as typical containers but are modified with features that allows them to act as office space.
Storage container offices are typically used as on-site field offices for contractors, project managers or engineers in major construction or land development projects. They are also used as remote or emergency offices due to their portability and durability.
Specifications:
20′ x 8′ x 8.5′ standard ISO dimensions (40′ long available also)
Approximately 5,000 lbs.
All steel construction
Vinyl tile flooring
Insulated walls with finished interior walls and ceiling
Air conditioner and heating
Interior and exterior lighting and power receptacles
36″ swing door and sliding windows (security bars available)
Optional storage area with double-doors
SHIPPING CONTAINERS MODIFICATIONs
custom work modification on containers
refrigerated shipping containers
shipping containers chassis
PICKING THE RIGHT SHIPPING CONTAINER FOR YOUR HOME
WHO USES PERMANENT OR TEMPORARY STORAGE CONTAINERS?

We work with companies in every industry and of every size to provide solutions to their storage needs. Examples of the kinds of organizations we work with include:

Construction Companies
Health Care Institutions (Hospitals, Medical Office Buildings, Laboratories, Veterinary Clinics)
Health Care Providers (Hospitals, Medical Office Buildings, Doctors' Offices, Surgery Centers)
Educational Institutions (Colleges and Universities, School Boards, Public and Private Schools, School Districts)
Religious Institutions
Government Agencies
Commercial and Industrial Organizations, Manufacturers, Warehouses
Sports and Recreation Organizations
Retail Establishments (Shops, Restaurants, etc.)

​PROVIDING STORAGE SOLUTIONS AND CUSTOMIZATIONS
​Not only does GovDeals.tv solve your short or long-term storage needs, but our team can customized your container to best meet your needs. Our container storage units can be so much more than just a hard-shelled space by simply adding features like partitions, vents, windows, shelving, wind turbines, insulation, lighting, extra doors, or by using other custom options/colors. As a proud member of the National Portable Storage Association (NPSA), we make sure all of our units are tested for wind and water tightness, are fully cleaned and refurbished inside and out and are ready for delivery as quickly as 24-72 hours (unless custom modifications are being done.) Ready to lease or purchase? Call us today at 973-932-6453. We look forward to earning your business.

​ADDITIONAL STORAGE EQUIPMENT (SELECT LOCATIONS)
​

While our standard inventory include 20' and 40' storage containers, in some locations we offer other sizes, including 10' mini storage containers, 24' storage containers, 28' pup vans, 45' storage containers, 45' storage trailers, 48' storage containers, 48' storage trailers, 53' storage containers, and 53' storage trailers. Please call your nearest GovDeals.tv office at 973-932-6453 to see what is available in your area.

Additional storage options and usage offered at select GovDeals.tv locations include:

Storage trailers for those customers needing a little extra storage without the extra permanent storage building costs.
Portable office/ storage combination units for those companies needing jobsite storage along with a private office (ie lunch room, tool crib or change room).
Office Containers for individuals needing strong security.
A tough-as-nails container office will provide you with peace of mind should security be a concern.
Domestic containers for those with larger storage needs.